According to Infosys Finacle, 90% of banks worldwide are exploring the use of cloud-based solutions. A study by Deloitte states that cloud systems can reduce a bank's IT costs by up to 40%. The strategic implementation of cloud services in the banking sector allows banks to utilize resources with exceptional flexibility and efficiency, encompassing data analysis, data storage, and batch processing.
In an effort to meet the rapidly evolving demands of the market, which include the need for swift, customized, and secure services, banks and financial institutions have recognized the importance of implementing resilient infrastructure solutions, like hybrid clouds, to enhance their services.
Understanding Hybrid Cloud

 
A hybrid cloud is a blend of private and public cloud services. It provides organizations the flexibility to tailor their resource allocation by incorporating external cloud services while maintaining control over internal resources. This allows workloads to be transferred between private and public infrastructure as demands and costs evolve.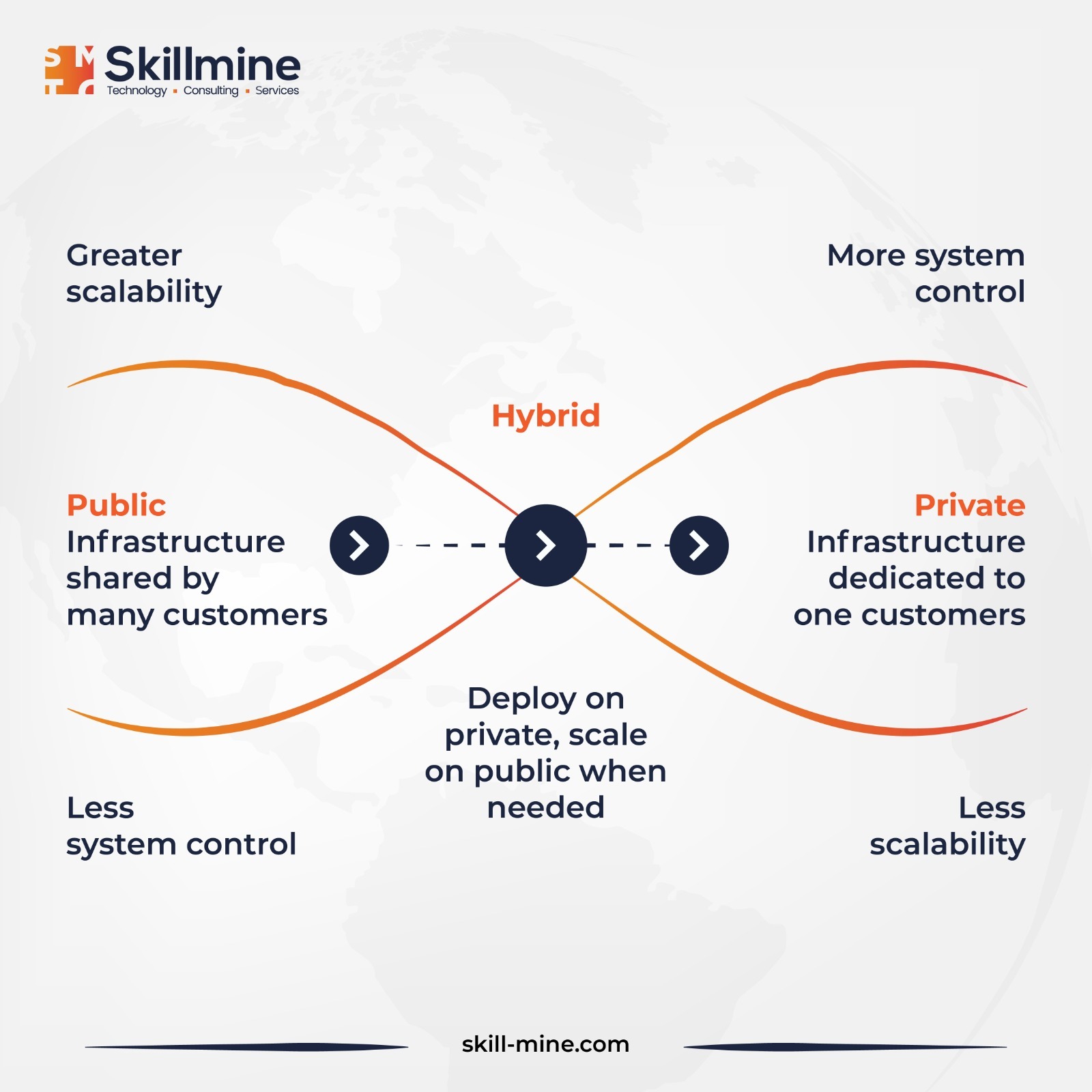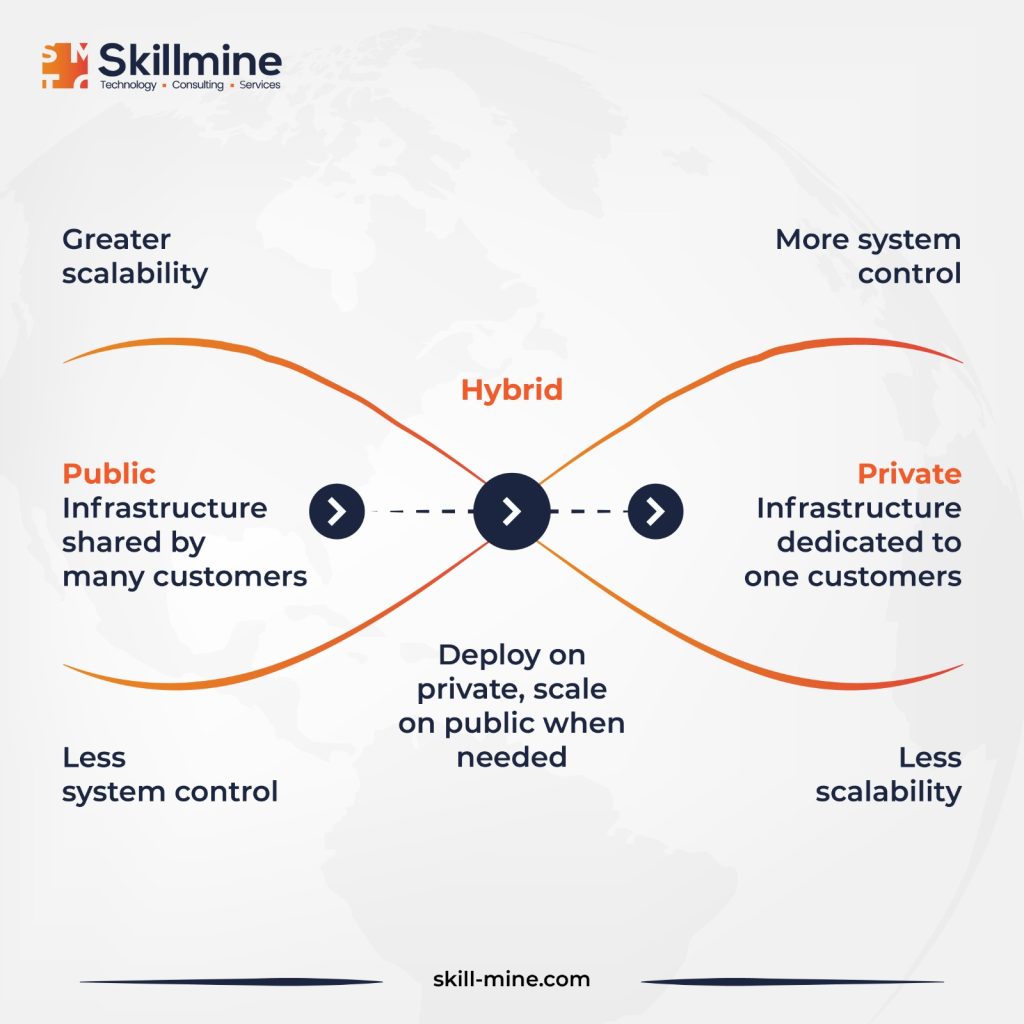 Role of Hybrid Cloud in Banking

 
Implementing a hybrid cloud strategy in banking enables a shift from a fixed-cost model associated with on-premises cloud infrastructure to a variable expense model. This flexibility means that banks only pay for the services they require at any given time, freeing up resources that can be channeled into business development rather than internal infrastructure funding.
Traditional infrastructure binds banks to investing in on-premises hardware as their business expands. In contrast, a hybrid cloud empowers banking and financial services to increase their computing capacity without experiencing growth-related challenges. This allows them to efficiently handle an unlimited number of customer requests simultaneously and deliver an exceptional level of service, even during peak workloads. 
A hybrid cloud solution in banking demonstrates remarkable agility, allowing banks to swiftly respond to evolving market challenges. This enables banks to adapt to changing client demands more rapidly, affording them the opportunity to experiment with various strategies and refine methods that have proven ineffective. Furthermore, a hybrid infrastructure bestows banks with the advantage of a shorter time-to-market, giving them a strategic edge over competitors who are slower in their digital transformation journey.
Despite its intrinsic complexity, a hybrid cloud solution can offer an attractive and user-friendly interface with seamless interaction patterns on the front end. Even intricate functions like facial recognition, when implemented on a hybrid cloud, can be accessed by multiple customers simultaneously, regardless of their location or device. 
With a hybrid cloud, banks can prioritize tailoring their approach to each customer's specific platform preferences. Leveraging cloud technology for banking applications empowers banks to develop applications compatible with various platforms, including iOS, Android, Windows, macOS, and more. 
A hybrid cloud solution for banks fosters seamless collaboration among different organizational units, facilitating instant communication and coordination among key stakeholders through a unified cloud platform.
Implementing a bank's hybrid cloud offers a method to segregate sensitive data from lower-risk information. This approach enables banks to mitigate security risks by housing high-risk data in a private cloud while placing lower-risk data in a public cloud, ensuring scalability. 
Access to Advanced Analytics
A hybrid cloud allows organizations to collect and virtually store data, providing them with the capability to analyze and even develop machine learning algorithms for extracting valuable insights. These insights can be harnessed to enhance upselling and service provision. 
Banks should not hesitate to adopt cloud technology, but it is crucial for them to adopt a hybrid cloud strategy to fully leverage its potential. The hybrid cloud approach offers the flexibility and scalability necessary for banks to meet the continually evolving needs of their clientele. Moreover, it aids in adhering to specific regulatory mandates while retaining authority over their data and applications.
At Skillmine, we assist enterprises in securing the necessary technology expertise for their digital transformation endeavors. Our approach has enabled us to collaborate with numerous clients within the banking sector. Know more about our cloud solutions
Looking for expert technology consulting services? Contact us today.